Wedding Trends – Late Night Snack Stations
Here at Chef's Choice, we always say that food can make or break a wedding – which is why we work hard to perfect your menus and proposals, take time to discuss your plans during your private menu tasting, and go all out on service on your wedding day. From phone call to last call, our aim is to deliver high quality food and service. One way we do this is by watching for food trends, especially with weddings! SO join us as we look into one trend we can really get behind: late night snack stations.
Back in 2018 we ran a promotion at our annual Open House event at Premier Park Events stunning Gibson House – a complimentary pretzel station when you booked with us by the end of the month. This proved to be very popular, and when added to a wedding proposal, you had an excellent mix of traditional sit down dining experience, and a little bit of fun to round the night of. For couples booked at breweries, this was the perfect way to end the night! After all, beer and pretzels (and beer cheese) are a classic combination. Seeing how popular this station was (and having seen several couples miss out on the promo but add it on regardless), we added this to our menu in the summer of 2018.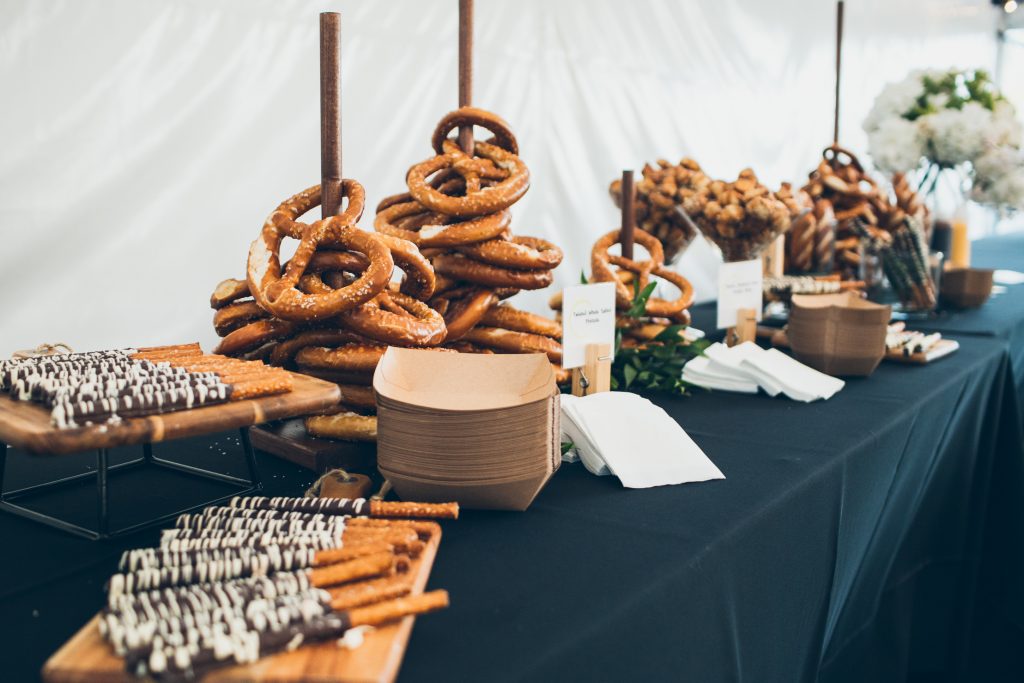 Our delicious, and ever popular, pretzel station features: Soft Pretzel Sticks, Savory Buttered Herb Pretzel Bites, Twisted Whole Salted Pretzels, Chocolate Drizzled Pretzel Rods. Dipping sauces include:
Beer Cheese, Garlic Parmesan Ranch, and Chipotle Brown Mustard.
As is often the way, we are very easily inspired by the venues we work at. We have menus that pair perfectly with the beers at MadTree and Rhinegeist for example, as well as a superb bourbon inspired selection of appetizers and entrées for couples celebrating at New Riff Distillery. But towards the end of last year we were looking for something more…universal. And so our late night coney station was born! Cincinnati Style Chili, Coney Dogs, Bakery Fresh Buns, Cheese, Mustard, and Onions – what more could a Queen City native want? We recommend late night snack stations are served about 2-3 hours after dinner – the perfect time to fuel up before heading back out on the dancefloor, or grab and go before heading home.
Looking for something different? We recently added street tacos and a nachos station to our late night snack menu, some fun alternatives to the heavier, carb heavy coney and pretzel stations. There truly is something for everyone!
Looking for more information on stations or menus in general, call our sales team today at (513) 489 6006.