2022 Wedding Trends – Late Night Snack Stations
Here at Chef's Choice Catering, we always say that food can make or break a wedding – which is why we work hard to perfect our menus, take time to discuss your plans in detail during your private menu tasting, and go all out on service on your wedding day! From phone call to last call, our aim is to deliver high quality food and service. One way we do this is by watching for food trends, especially with weddings. So join us as we look into one trend we can really get behind: late night snack stations.
Late night snack stations have proven to be very popular, and when added to your wedding reception, you have an excellent mix of a traditional dining experience, and a little bit of fun to round the night of your wedding celebration. For couples booked at breweries, this is the perfect way to end the night! After all, beer and pretzels (and beer cheese) are a classic combination. Seeing how popular this station was we also added Cincinnati-Style Chili Coney stations and as well as Traditional & Premium Nacho stations to our late night snack station options!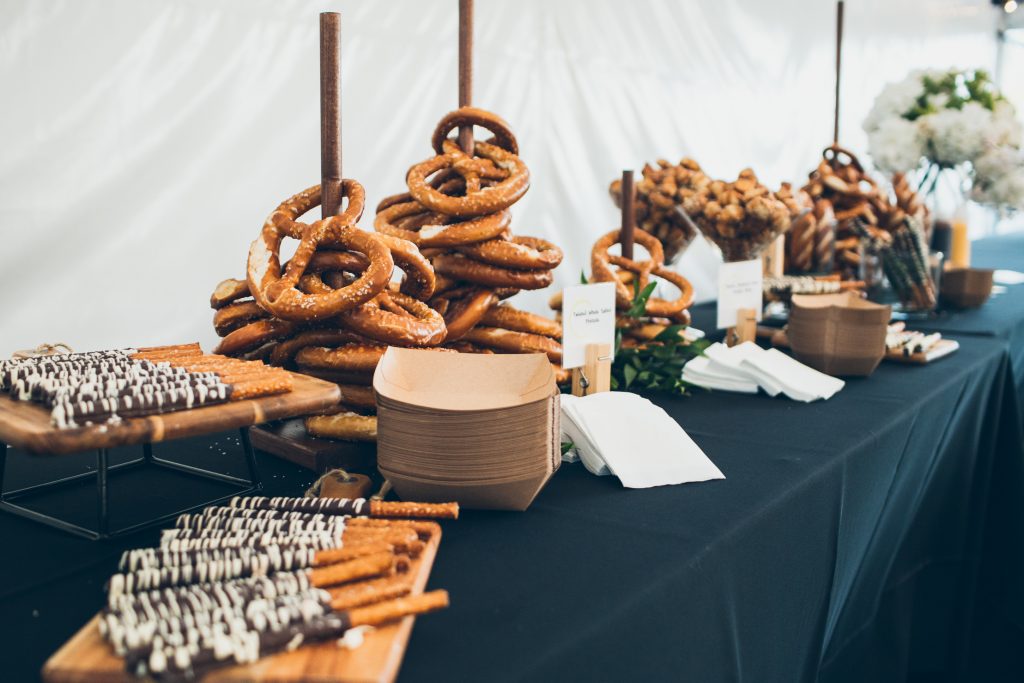 Our delicious, and ever popular, pretzel station features: Soft Pretzel Sticks, Savory Buttered Herb Pretzel Bites, Twisted Whole Salted Pretzels, Chocolate Drizzled Pretzel Rods. Dipping sauces include:
Beer Cheese, Garlic Parmesan Ranch, and Chipotle Brown Mustard.
We recommend late night snack stations are served about 2-3 hours after dinner – the perfect time to fuel up before heading back out on the dance floor, or grab and go before heading home.
Looking for more information on stations or menus in general, call our sales team today at (513) 489 6006 or email us at info@chefschoicecatering.com.